88th ANNUAL SPORTS MEET 2022
St. Joseph's Academy celebrated its 88th Sports Meet on 21st October 2022. The Chief Guest for the day was Major General Sanjeev Khatri, VSM, GOC ,Uttarakhand Sub Area who was accompanied by his wife, Mrs. R. Khatri. The event commenced with the Guest of Honour, Major General Sanjay Sharma, VSM, hoisting the Olympic Flag and declaring the school's 88th sports meet open.
The Sports Secretary and Vice-Principal of the school ,Rev. Bro. AstinusKujur administered the oath to all the athletes. The torch was lit by the Guest of Honour and thereafter carried on in a relay by 9 distinguished athletes of the school
A series of track events were witnessed in all the categories- Sub Jr, Jr, and Senior - wherein the young Josephites proved their mettle.The Junior School also participated in the track events with full enthusiasm and filled the field with beautiful colours through their fun races. The karate display and the saree dance presented by the boys and the girls of classes ix and xi added to the show. The much awaited 5000mtr cycle race of senior boys was completed amidstthunderous cheering by the entire school.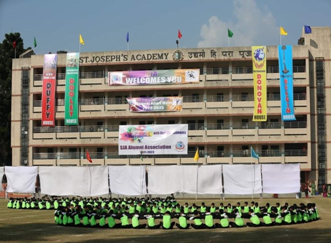 The big field of St. Joseph's Academy came alive with all four houses- Donovan, Dooley, Duffy and Bergin marching in perfect synchronisation. The Chief Guest Major General Sanjeev Khatri VSM, GOC, Uttarakhand Sub Area addressed the gathering ,congratulating all the winners and motivating everybody else to accept challenges and try their best.
The following were adjudged the best athletes:
Sub Jr. Boys - Paras Parth
Sub Jr. Girls- SambhaviLatiyan
Junior Boys- Balark Badoni
Junior Girls- IshitaKashyap
Senior Boys- K Roli Mao
Senior Girls- Kshirja Kumar
Fastest Athlete :
Boy - K Roli Mao
Girl - Kshiti Kumar
Cycle Race :
Boys - Aryan Sahni
Girls - Pushti Bhatt
The Marathon results are as follows :
Junior Boys: HarshitSahi
Junior Girls :Parikalpana Singh
Senior Boys: Param Vats
Senior Girls: DakshitaJagpal
March Past :
Bergin House
Dooley House
House Championship :
Dooley House
Bergin House
ChitreshBisht Memorial Trophy and Cash Prize (10,000)-organised by the Alumni Association
Best Sportsperson :
Boy : K. Roli Mao
Girl :Kshirja Kumar
The Vote of Thanks was proposed by Rev. Bro. Jeyaseelan, the Principal.

The Sports meet culminated with the lowering of the Olympic flag and the entire school singing the School Song.